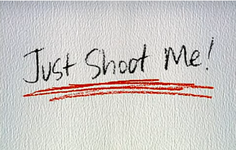 Season Two
of
Just Shoot Me!
aired on NBC from September 23, 1997 to May 12, 1998 and contained 25 episodes.
#
Title
Original airdate
07
"The Experiment"
September 23, 1997

(1997-09-23)

Maya concocts an experiment to prove that good looking people have an unfair advantage in the job market, but she then proves the prejudice when she starts dating the good looking guy. Nina thought she and Elliot were going to play a practical joke on Finch, but in the end Finch and Elliot play one on her. Meanwhile, Jack desperately struggles to assemble a baby bungalow for his daughter Hannah.
08
"The Assistant"
September 30, 1997

(1997-09-30)

Maya's new assistant, Cindy (Cheri Oteri), is not only annoying but also incompetent; however, Maya refuses to admit to Jack that she hired the wrong person. As Nina is preparing for a radio debate with a feminist intellectual, Elliot and Finch devise a plan to humiliate her and make a word-a-day calendar with made-up words.
09
"Old Boyfriends"
October 28, 1997

(1997-10-28)

Maya is dating an older man; when Jack finds out, he has a problem accepting it. Nina flashes a window cleaner who as a result falls off the scaffolding and ends up in hospital.
10
"La Cage"
November 4, 1997

(1997-11-04)

Finch is happily surprised by the advances of a supermodel (Guest starring Stephanie Romanov), despite Elliot's warnings that she's crazy.
11
"King Lear Jet"
November 11, 1997

(1997-11-11)

Jack has obtained two tickets to the Royal Shakespeare Company production in London. With a lot of flattery, Nina and Elliot are given the tickets much to Maya's annoyance.
12
"My Dinner with Woody"
November 18, 1997

(1997-11-18)

Maya writes an article on her hero "Woody Allen", She then receives a phone call from Woody himself. When she meets him, she realizes that he is a copycat. She stays with him and lives out a fantasy of life as a Woody Allen movie.
13
"Twice Burned"
November 25, 1997

(1997-11-25)

Jack is desperate to get his daughter Hannah into Woodbridge, the best school in the city, but his application is turned down: he forgot that Maya, as a student of the school, burned down one of its wings. Elliot and Nina discover they share a fascination with blues singer/songwriter Cholera Joe Hopper, but cannot agree as to the lyrics of one of the songs. The two try to track down any of the living relatives of Cholera to find out what the correct lyrics are.
14
"Sweet Charity"
December 9, 1997

(1997-12-09)

Maya convinces Jack to get Blush Magazine involved in some charity work. Elliot has a problem when the delivery guy invents a nickname for everyone in the office but him.
15
"Jesus, It's Christmas"
December 16, 1997

(1997-12-16)

Maya suggests that Blush management pool their resources to give a gift to someone less fortunate in place of exchanging gifts. Meanwhile Finch tries to finagle his way onto a photo shoot in the Caribbean.
16
"Elliott the Geek"
January 6, 1998

(1998-01-06)

On finding out about the death of his high school teacher, Elliot intends to take vengeance for being picked on in school and impress his former persecutors with his success and glamor. At the funeral, he realizes however what the real lesson of the late teacher was and abandons the intention. Meanwhile, Jack is giving Finch some tips as to how to exert power over others using psychological techniques. When Finch is drunk with his newly gained power and thinks the pupil has outgrown the master, Jack puts him back in his place.
17
"Sewer!"
January 13, 1998

(1998-01-13)

Maya tries to compete with her old college roommate's (guest star Lisa Edelstein) globetrotting journalistic ventures by spending a night in a sewer in hope of getting her first hard-hitting news story in a year.
18
"In the Company of Maya"
January 20, 1998

(1998-01-20)

Maya develops a crush on a writer she works with and believing that he likes her to she uses some of Nina's tips to lead him on. Elliot dates an fledgling actress and is embarrassed that her initial break comes in the form of doing an ad for hemorrhoid medication.
19
"Pass the Salt"
January 27, 1998

(1998-01-27)

Finch's father comes to town for a firefighters' convention, and to bond with his son, whom he is now sure is gay.
20
"The Walk"
February 3, 1998

(1998-02-03)

When Jack loses his temper for no apparent reason Maya, Elliot, Finch and Nina try to find out why. Finch tries to seduce coworker Courtney by following Elliot's advice to think of romance as a tango.
21
"Nina in the Cantina"
February 24, 1998

(1998-02-24)

Nina thinks she is the Nina in the song title and regales Maya with the story of her most romantic evening. Maya lets slip at an interview with the singer she knows Nina and arranges a meeting between the two only to find out that Nina's love is not the singer.
22
"College or Collagen"
February 26, 1998

(1998-02-26)

Mentoring seems to be going really well for Maya- her protégé; Karey is doing well in her first year of college. However, Karey comes to a crossroads wondering what to do with her life. Meanwhile, Finch replaces Allie as Jack's bridge partner and then becomes jealous when Jack wants to play again with her.
23
"Nina's Bikini"
March 5, 1998

(1998-03-05)

Nina's famous bikini is going to be put in the Model cafe and Jack has Elliott take boudoir photos of him as an anniversary present for his wife.
24
"The Kiss"
March 19, 1998

(1998-03-19)

Maya agrees to pose as Elliott's wife in order to get him a great deal on an apartment. Meanwhile, Jack discovers that Finch has been renting out his parking space.
25
"Bravefinch"
March 26, 1998

(1998-03-26)

Jack hires a personal assistant when Finch complains about doing petty errands. Meanwhile, Maya's interview is ruined when she thinks a nicotine patch is a band-aid.
26
"Jack's Old Partner"
April 9, 1998

(1998-04-09)

While writing his memoirs, Jack is unable to write the chapter where he fires his old business partner, Herb. Believing guilt to be the cause of his writer's block, Jack re-employs Herb, only to remember why he fired him all those years ago. Nina tries to evade an IRS audit, first by hiring Finch, then by using Elliot to romantically distract the auditor.
27
"Amblushed"
April 16, 1998

(1998-04-16)

Jack persuades Maya to go and make a speech to a group neglecting to add that the group want to know why the magazine denigrates women; Maya then defends herself but insults her co-workers. Nina decides she wants to stage a comeback as a model, and Elliot decides to cover her in gold paint for the photo shoot.
28
"The Emperor"
April 23, 1998

(1998-04-23)

Nina decides not to go to a designers party and Maya goes in her place making some very choice comments regarding the designer and losing the magazine advertising revenue. She then tries to redeem the situation. At Jack's suggerstion, Eliot starts dating a certain Meredith Baker; yet, Jack's meddling in their relationship make Eliott look creepy.
29
"Rescue Me"
April 30, 1998

(1998-04-30)

An office blood drive turns into a storytelling session, as Finch, Elliott, and Nina tell Maya how her father rescued them from desperate situations.
30
"Eve of Destruction"
May 5, 1998

(1998-05-05)

Maya's mother visits the magazine and she and Jack get into a fight about a painting. Elliot, Finch, and Nina get nervous when it appears Jack has brought in an efficiency consultant who seems intent on shaking things up.
31
"War and Sleaze"
May 12, 1998

(1998-05-12)

Nina proposes a double date for her and Maya, and Maya senses trouble. She is then proven right when her date, after throwing his back out in her apartment, is revealed to be a United States Congressman - and a married one.