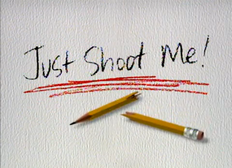 Season One
of
Just Shoot Me!
 aired between March 4, 1997 and March 26, 1997 and containing six episodes.
The show follows the staff at the fictional fashion magazine Blush. The show originally centres on Maya Gallo, played by Laura San Giacomo, a feminist writer, who reluctantly takes a job at the glamour magazine, owned by her father, the Donald Trump-like Jack Gallo played by George Segal (who in the story has a rivalry with Donald Trump). The cast includes womanizing (and usually over-sensitive) photographer Elliot DiMauro and the heavy drinking and sexually promiscuous ex-model Nina Van Horn.
After the show's original pilot for NBC, David Spade was added to the cast as smart-mouthed assistant Dennis Finch. While the show had been designed as something of a vehicle for San Giacomo, it developed into more of an ensemble format. The show has also been credited as bringing a surge of renewed popularity for Segal and Malick, who had been out of the public eye for some time up until Just Shoot Me!. Every episode of the 148-episode, seven-season run features all five regular cast members.
The first season also include Chris Hogan as Maya's roommate, Wally, who was dropped when the show quickly solidified as a workplace sitcom, making the Mary Rhoda dynamic obsolete. Hogan did not appear in all six episodes of the first season and was only included in a few minutes of some episodes. Brian Poeshn appears as mail clerk Kevin Liotta through much of the last four seasons. Rena Sofer, the only regular added during the run of the show, plays young fashion savant Vicki Costa during the final season. Also in the final season, Simpon Templeman plays the recurring role of British rock star Simon Leeds, who has a relationship with Nina.
#
Title
Original airdate
01
"Back Issues"
March 4, 1997

(1997-03-04)

Maya Gallo goes to work for her father , Jack Gallo at his magazine, although she doesn't want to. When she arrives for work, friction develops between her fellow co-workers, Nina Vorn Horn, former supermodel and now fashion editor of Blush, Dennis Finch, Jack's secretary and right-hand man and Elliott DiMauro, the womanizing photographer and her.
02
"The Devil and Maya Gallo"
March 5, 1997

(1997-03-05)

Maya begins working at her father's magazine. Her father buys her a ton of gifts and gives her a great new office in which to work. Maya is thrilled, until she analyzes her father's motivation.
03
"Secretary's Day"
March 12, 1997

(1997-03-12)

When everybody starts wishing Finch happy secretary's day, he gets very annoyed. He hates being known as just a secretary. He leaves the office and has a brush with fame when he falls into the gorilla cage at the zoo. Jay Leno appears as himself in The Tonight Show.
04
"Nina's Birthday"
March 19, 1997

(1997-03-19)

When Jack becomes fed up of Maya's and Nina's constant fighting, Jack suggests Maya throw Nina a birthday party; Maya tries her hardest to be nice to Nina, but she is pushed to her limits. Finch claims that Elliot's success with women only comes from his being a powerful photographer, so they make a bet to decide the issue.
05
"In Your Dreams"
March 25, 1997

(1997-03-25)

Elliot took photos of Maya for her employee badge and Maya later had sex dreams about Elliot. The next day, Maya tried hard to hide about the sex dream at the office.
06
"Lemon Wacky Hello"
March 26, 1997

(1997-03-26)

On a trip to Hong Kong Jack brings back some tasty treats for his employees. Although unknown to him, they contain a hallucinogenic drug. While under the influence Maya must try and put the magazine back together.